RoboCrib® VX500 | VX1000 | LX2000
The ultimate industrial vending machine!
The RoboCrib® series is our most popular industrial vending machine. It can manage both secure issues and returns of items. It dispenses virtually any inventory item you have including very small, large, and delicate items you wouldn't want dropped. It's good for both fast and slow moving item types. It's prefect for large amounts of SKUs. Best of all no individual repackaging is needed. The RoboCrib® series can do all of the things a helix coil "candy bar" style machine can't.
RoboCrib® VX500™ stocks up to 628 items – Requires less than 10 square feet of floor space!
RoboCrib® VX1000™ stocks up to 1048 items – Requires less than 10 square feet of floor space!
RoboCrib® LX2000™ stocks up to 2574 items – Requires less than 27 square feet of floor space!
Features and Functions
Fast vend times takes less than 10 seconds for ANY item!
Using a series of counter-rotating carousels all spinning simultaneously it can dispense any item in less than 10 seconds! This patented design is not available anywhere else.
Dispense virtually any inventory item from your RoboCrib®
The wide-selection of available bin sizes lets you deliver a wide-range of items, including very small, large or delicate items that are not easy to dispense or impossible to dispense from traditional tool vending machines. Whether you are interested in vending tools or vending MRO or vending PPE it all can be done with a RoboCrib®. Here are just a few of the items you can vend to give you some ideas: Cutting tools, carbide inserts, batteries, safety glasses, ear-plugs, welding tips, hand tools, valves, adhesives, keys, maintenance parts, spray cans, tube fittings, drill bits, tape, air tools, repair parts, gages, bulk items and more!
Customized for you and easy-to-reconfigure
Every RoboCrib® is customized to fit your items, and the door baffles automatically adjust to fit each bin size perfectly and prohibit access to adjacent bins. When your storage needs change, this also makes it easy to reconfigure because you can change-out the bins to different sizes anytime you want. AutoCrib® also offers some great options like field-configurable bins that let you change-out bins with just a single screw. So, it's really quick and easy to modify bins as your inventory needs change.
Client Server or cloud-based .Net
You decide how you want to run your operations. You can host everything on your own secured internal network or use our cloud-based .Net platform online. Whether you are operating in a military-grade network environment or just want a simple easy setup with an established secure infrastructure you can access online, our software gives you the capabilities to run your operation how you want it run.
Options
Available with RoboCrib® VX500, VX1000, LX2000
Heavy-duty caster wheels
Attaching heavy-duty caster wheels makes your mobile crib physically mobile and easy to maneuver across level surfaces with swiveling action. Ideal for managing maintenance and repair parts throughout large areas like airline hangers, shipyards, large manufacturing plants, etc…
Frameless doors
With the frameless doors option, the system can open multiple doors at the same time, allowing larger items to be dispensed vertically. This lets you dispense larger items impossible to vend in other traditional machines.
ScaleMate®
The ScaleMate® option (with "parts cups") can dispense smaller items such as fasteners, while increasing control. The user issues a parts cup from the RoboCrib®, they take the quantity of items needed, weigh the remaining items, and the ScaleMate® tracks the number removed.
AutoLocker® FX
AutoLocker®'s FX are fully automated lockers with a wide-range of sizes and custom configurations. You can attach an AutoLocker® FX to your RoboCrib® and dispense larger items like oversized spares, tool boxes, eTools, calibration gages, power tools, bandsaw blades, laptops, and more! Even options for built-in power outlets and LAN connections are available! Dimensions and depths available to fit even the largest items like spare-parts for jumbo-jets or oversized vehicle and machine parts!
How it works
Login – Employees access the RoboCrib® by using their employee badge or employee number.
Select Item – Users the select the item they want.
Dispense – The RoboCrib® will automatically move the item into position and open the door.
Optional
A PIN can also be required as well as prompts to track overhead data like Department Number, Job Number, Customer Number, Tail Number, etc…
Specifications
You can limit the use of any item to a specific quantity per day, week, or month
RoboCrib® sends instant alerts to the supervisor, when a job is out of process because of abnormal tool usage.
Limit employee access by dollar amount, departmental budget, or time restrictions by shift
Control access by allowing items to only be used on specific jobs
Track lot numbers
Deny access to a serialized gage that has fallen out of its calibration cycle
Automatic door "baffles" prohibit access to adjacent bins.
Touch screen buttons are programmable for each user, so each user sees only the functions relevant to him/her
Users can select: Issue, Locate, Phys (Physical Count), Return, Stock, Maintain
Omni directional bar-code reader for scanning employee ID, job number, department number, etc.
Search by item code, description or classification within the machine
Filtering tool helps find correct tool for the job, and limit the tools available or specific to each job. Restricts tool choices to ensure user finds the right tools for the job. System will walk user through the issue process, selectively reducing the number of items that can be issued to that user based on answers to questions regarding department, machine, and job.
Search for any item in any vending machine or tool crib in the AutoCrib® system, from the touch screen, using AutoCrib® software
View pictures of items to confirm or locate the correct tool
Control access by item, dollars for a departmental budget, dollars for an employee budget, quantity of individual items by employee, individual items by job, and employee shift
Complete calibration control
Learn More About Gage Calibration Center
Complete serial number tracking and access control
Complete lot control
Force the use of reconditioned items
FOD (Foreign Object and Debris) control (system-wide, as well as max number of item on the floor per user)
Dispense the same item in different package quantities with the same item code (maintains accurate usage history, and aggregates the spend based on one item code)
24-7 Availability – With security and accountability
No need for individual repackaging of items
No repackaging required – Save time and money with every re-stock
Fastest retrieval time: Access any item in less than 10 seconds!
Automates purchase orders – It even calculates the lead times
Variable bin size – Customized to your exact needs
Vend almost any item, type, or size – Issue large, small, or delicate items without item dropping!
Control reconditioned items – Force the use of reconditioned items first
Universal search – Search for any item plant-wide
Gage Management – Deny access to a serialized gage that has fallen out of its calibration cycle
Multilingual – Support for other languages
Field reconfigurable – Bin configurations for a variety of item sizes and optional field-configurable bins are available so you can easily change bin types with just one screw!
Computer: PC Intel Core i3 Processor, 12.1″ diagonal color SVGA TFT touch screen display
Bar Code Scanner: Universal omni-directional wedge-type laser scanner
TCP/IP-Ethernet Compatible
Full user access support – Supports proximity cards, key fobs, mag-stripe cards, barcodes, keypad/PINs
15 levels: Access to each level is controlled by an electronically-locked door, door aperture automatically sized to fit selected bin size Injection molded polypropylene trays
3AMP, 120 VAC 60Hz or 230 VAC 50Hz
Operating Temperature range of 10°C to 38°C (50°F to 100°F) in still air (75% R.H. non-condensing) or stored in a range of -18°C to 68°C (0°F to 155°F)
Any tray assembly can easily be changed out
Return bin for dull tools
Optional frameless doors to accommodate larger items vertically
Optional ScaleMate® – weighing scale to increase security for multiple items in a single bin
Optional Caster Wheels – Makes your RoboCrib® physically mobile.
12-month warranty
Bin Sizes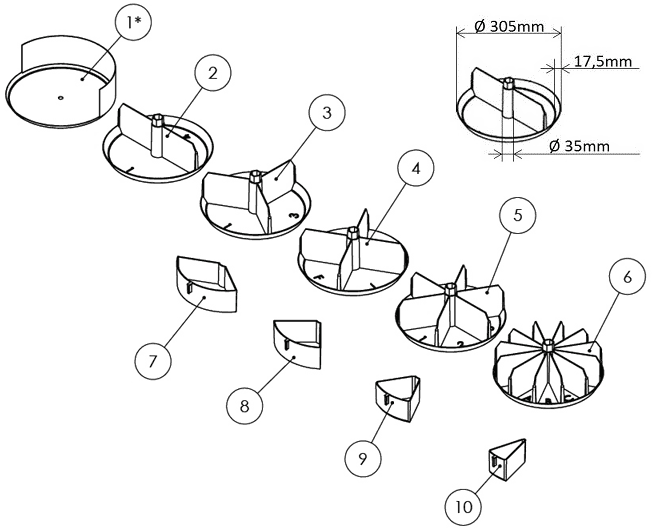 RoboCrib® Bin Sizes
*Tray, Full Pie = 11 ½" circular x 4″ high
Tray, 1/2 Pie = 11 ½" x 5 ½" x 4″ high
Tray, 1/3 Pie = 9 ½" x 5 ½" x 4″ high
Tray, 1/4 Pie = 7 ½" x 5 ½" x 4″ high
Tray, 1/6 Pie = 5 ½" x 5 ½" x 4″ high
Tray, 1/12 Pie = 2 ¾" x 5 ½" x 4″ high
Parts CUP, 1/3 Pie
Parts CUP, 1/4 Pie
Parts CUP, 1/6 Pie
Parts CUP, 1/12 Pie
*Full Pie Trays available in Half/7-Tray Stacks Only
Field Configurable Bins
Easy to replace on the fly with just one screw!
Call right now to get started with industrial vending: +49 40 716 655 900
Interesting links
Here are some interesting links for you! Enjoy your stay :)